Basic access
Basic access is sufficient for most users wishing to access internal websites (including Webmail) or launch applications from the atNYULMC.org portal, and requires only a supported web browser and a computer that meets the minimum system requirements. If you need Advanced access, see Advanced access below.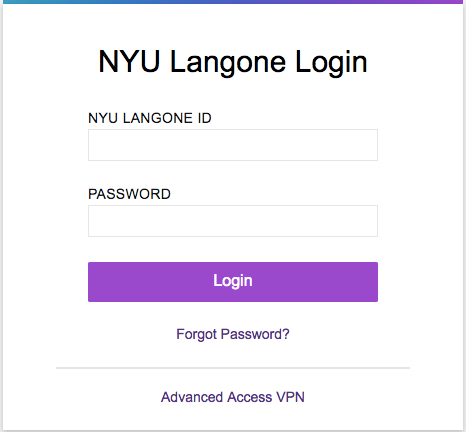 You won't see this login page if you're connected to the NYUMC or LMCmobile network. It is only for remote access.
To log in for Basic access to the network:
In your web browser, go to http://atnyulmc.org or the internal website you want to visit.
Enter your NYU Langone Health username (also known as a Kerberos ID) and password.
Click Login.

If you get the message "The username or password is not correct," make sure you entered your Kerberos ID in the username field and re-enter your password. If you've forgotten your password, you can use the Forgot Password? link to reset it.

If prompted, complete the two-factor authentication process.
If you need Advanced access (for example, to run server-based applications or to access tools such as RDP, SSH, or FTP), click the Advanced access link displayed on the Basic Access login page before signing in.
Advanced access can be accomplished one of two ways:
Advanced access is not supported on mobile devices.